The newly planned V-shaped area including western Shanghai's Hongqiao business district and other parts of the Yangtze River Delta region will work as an important gateway to link domestic and international markets, experts said.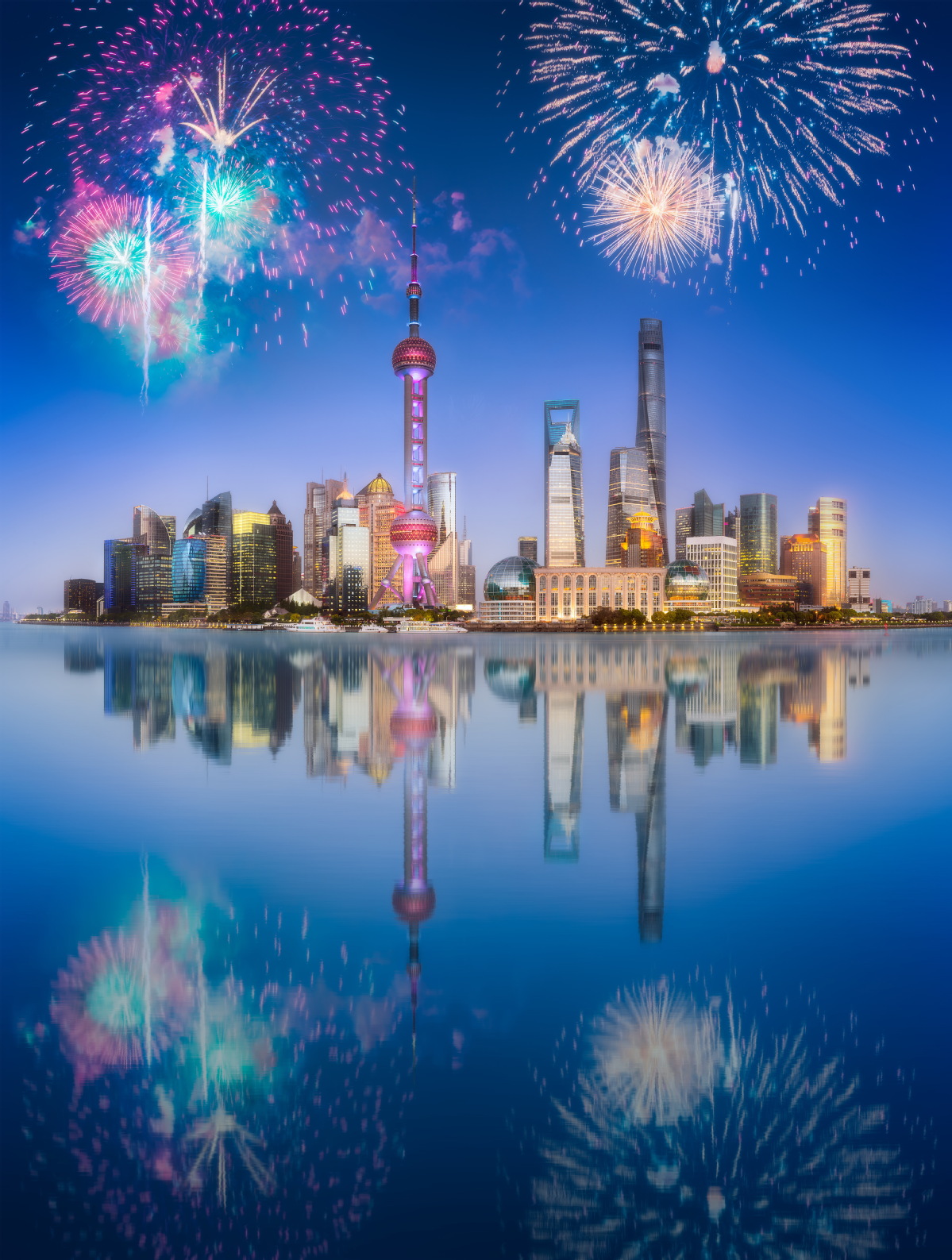 Bright-colored fireworks glow and reflect on the river in this view of the Bund in Shanghai. [Photo/IC]
The State Council released in late February the framework plan to build Shanghai's Hongqiao and parts of neighboring Jiangsu and Zhejiang provinces into an international hub. It highlighted more opening-up policies, which will further facilitate innovation, transportation and international trade.
Covering a total of 7,000 square kilometers, 151-sq-km of which are the Hongqiao business district, the newly planned area is not only conducive to the integrated development of the Yangtze River Delta region, but also closely related to the country's social and economic development, said Chen Yin, Shanghai's executive vice-mayor, during a news conference last week.
Among the 102 detailed development policies specified in the framework plan, 75 are closely related to Shanghai. Hongqiao business district's role of bridging the domestic and international markets-which is already best represented by the annual China International Import Expo held there and at least 380 multinational companies having their China or Asian headquarters in the district-should be further strengthened, according to the plan.
The goal of further opening-up is explicit. Under the new plan, eligible companies in Hongqiao will be allowed to open free trade accounts and carry out unconventional forms of international trade. Shanghai Hongqiao International Airport will be authorized to import cars via airfreight. Financial institutions in the district will be encouraged to conduct cross-border renminbi trade financing and refinancing businesses.
Experts said business vibrancy in Hongqiao should be further elevated. That said, financial institutions will be encouraged to provide cross-border bond issuances as well as investment and merger services for companies in the district. Infrastructure projects in Hongqiao will be supported to issue real estate investment trusts. Multinational companies will be encouraged to set up global or regional capital management centers.
Zeng Gang, director of the Institute of Urban and Regional Planning at East China Normal University, said that Hongqiao is capable of serving as a major driver of the integrated development of the Yangtze River Delta region, thanks to its global competitiveness. The number of multinational companies with an established presence in the district as well as industrial clusters here are proof of this.
"Health, pharmaceutical, artificial intelligence and navigation industries are new economic drivers of Hongqiao. The district's capability in gathering resources from all over the world and the influence it will exert on neighboring areas will boost the social and economic vitality of the entire Yangtze River Delta region," he said.
Zhang Xueliang, an economics professor at the Shanghai University of Finance and Economics, said that the city has long served as an important bridge connecting the Chinese and international markets. Under the new plan, Shanghai will look just as much into the domestic market for more opportunities. By creating a metropolitan area centered in Hongqiao, industrial ties between Shanghai and neighboring cities will be further consolidated and the market potential of the Yangtze River Delta region more deeply explored, Zhang said.
Source: China Daily