In the 21st century, Tomb Sweeping Day has adopted diverse forms and new technologies to make it more convenient for people to pay tribute to their ancestors.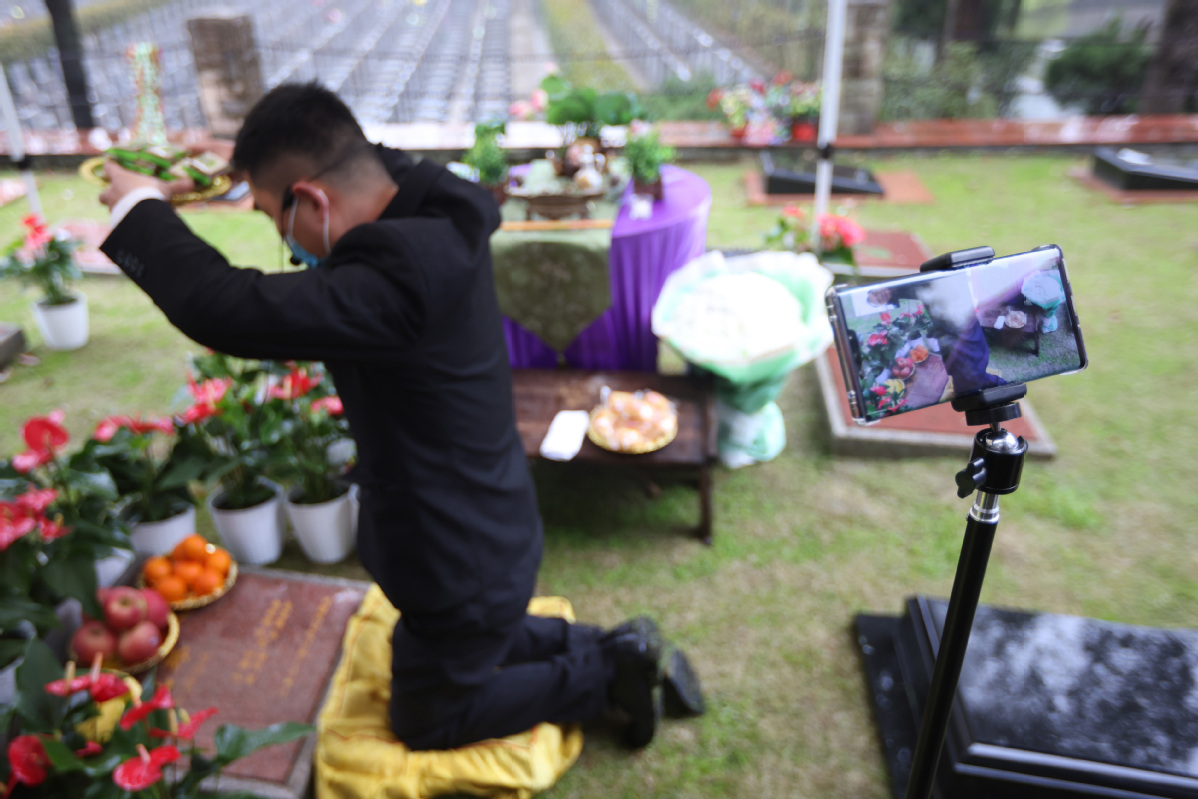 An online tomb-sweeping ceremony holds at Yuhua merit garden, a cemetery staff sweeps a tomb
upon request from local citizen Mr Xie, and the whole process can be seen through video chat
in Nanjing, Jiangsu province, 11 March, 2021. [Photo/IC]
While a few methods might appear unorthodox, others are faithful continuations of the traditions, albeit with a modern twist.
In 2006, Tomb Sweeping Day was listed by the State Council as a national intangible cultural heritage. The next year the festival became a national holiday, giving people the opportunity to visit cemeteries and go on trips.
Digital technologies have provided new ways to pay tribute to the deceased, especially for those who can't travel around the time of the festival.
In the early 2000s, online memorial services began to emerge. On the sites, people can establish a memorial for their deceased friends and family members that includes their life stories, photos, recordings and videos. Condolences can also be left on a message board.
With advances in mobile technology, myriad memorial platforms are now available.
One can even pay for offerings online and download a QR code to the virtual memorial halls which they can attach to a tombstone. Anyone visiting the tombs can scan the code and read about the life stories of the deceased.
Funeral homes and management offices are also opening up online memorial platforms that apart from creating profiles for the deceased, provide panoramas of the cemeteries.
Beijing Municipal Civil Affairs Bureau has established an online tomb sweeping page, where people can pay tribute to family members, friends, teachers and revolutionary martyrs by leaving their names and messages. Virtual flowers, incense sticks, candles and alcohol can be offered.
The messages are all available to the public on the website. As of late last month, 2055 messages had been posted for Tomb Sweeping Day.
Cemeteries are also offering services for those who are unable to pay tribute in person. People can simply make a request online or via a phone call, provide the necessary information, and the cemetery staff members will clean the tombstone and place flowers.
Although these online services are sometimes frowned upon, they are convenient for those who cannot make the journey to a grave site.
For those able to partake in tomb sweeping, some choose unconventional offerings. Aside from joss paper, on e-commerce sites paper models of smartphones, home electronics equipment, cars and even private jets are available.
As burning joss paper causes pollution and poses a fire hazard, authorities recommend offering real flowers as a form of tribute. This year, 20 funeral service providers in Beijing have prepared 600,000 flowers for cemetery visitors.
In some cities, such as Mudanjiang in Heilongjiang province, radio stations have designated a time slot for mourners to request a song or read a memorial for dead relatives.
It has also become customary for some schools and organizations to arrange group trips around the time of the festival to revolutionary martyrs' cemeteries to lay wreaths at monuments, learn their heroic stories and pay homage for their sacrifices.
In 2015, East China Normal University in Shanghai started to organize campus events to salute their first principal. The initiative was echoed by eight universities the following year.
Tree planting is another common group activity on the day, a custom advocated by Chinese revolutionary leader Sun Yat-Sen. Spring provides favorable conditions for planting trees, which is an eco-friendly way to mark remembrance.
Source: China Daily